They're creepy and they're cooky, they're… well, you know. This summer, The Addams Family took up residence at the Barn Dinner Theatre.
Briefly, anyway.
Much more briefly than we were contracted for.
But the audiences that did attend were lovely and the checks cleared, and that's what matters, yes?
We had a short rehearsal period, but this amazing cast stepped it way up and put on a darn good show – ifidosaysomyself.
I don't have much else to say in way of exposition, so I'll just share some of my favorite Dancing Lemur photos. Jenny was aided in taking rehearsal photos by Thao Nguyen.
You should hire them both.
A lot.
Of course, the only problem with having your friends do the show photos is when you have to freeze directly facing those friends. Who know how much you hate having your picture taken.
Fair warning, most of these photos will feature my amazing costume by Frenchie Slade. You should also hire her. Send me an email and I'll pass hers along.
For this show, I was reunited with last summer's Mother Superior, Pauline Cobrda. Besides being an amazing actor – and lovely person – Pauline is also a theatre teacher and well-versed in directing.
She also has a lot of experience on the Barn's square in-the-round stage, and managed to not only fit a much larger than usual cast on it, but also to create the whole spooky mansion and Central Park, as well. Technical Director Matt Bradshaw's painting added to the effects.
I was also reunited with my Sister Mary Amnesia, Gretchen, who, while far too young to play Alice, really, played Alice BRILLIANTLY.
I mean…
Brilliant, beautiful, belt to Jesus.
I also got to work again with Adam Plant. Who was possibly the cutest Pugsley ever.
Fun fact: early on in rehearsals, Adam took a photo of the two of us introverting during a lunch break and added #pugsandmort.
We never took another photo together the rest of the run.
That's how you know you're true introverts.
As you can see in that torture photo above, our ensemble was In. It. One of the things I appreciate most about Jenny's show photography is that she always makes sure there's at least one killer shot of each ensemble member.
IMO, the least a theatre can do for their actors is give them a good profile photo for a week or so, because nothing is more irritating when you're working your ass off only to have all the "professional" pics be of the lead – who usually isn't working nearly as hard.
If you hire Dancing Lemur for your show photos, she'll make you look good by making your cast ALL look good.
Also, another reason to love these ancestors:
I never get lifted! #tallgirlproblems – and I'm not even That Tall!
…I did also learn that it's hard to sustain a note while being lifted. Win some, lose some.
Morticia is, clearly, an iconic role. While I don't pretend to be as witty as Bebe Neuwirth,
a classic beauty like Carolyn Jones,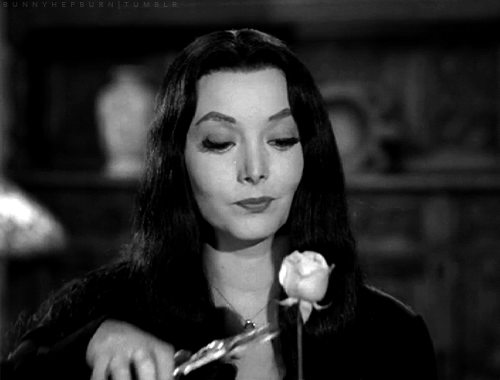 or as intense as Anjelica Huston,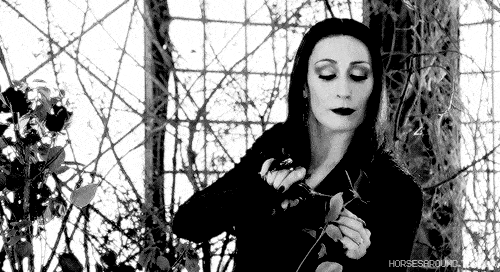 at least I got to do this.
And I got to do it with my dear new – very young – friend Cal.
Who was a delightful husband…
…despite what my face may say.
The night of rehearsal photos, I realized I had forgotten nail polish. Jenny, the photographer, picked some up at Target – messaging me photos for approval, of course. I facebooked her cash, and she handed it off to Adam to bring to the theatre. Ain't technology grand?
Not even going to pretend like I don't kindof want to wear that much padding and a corset on semi-regular basis. It was kind of fun to be cast in a role NOT for my legs for once.
Oh, wait.
I read an article once about the different reasons people perform, and mine is definitely Transformation.
And so, we bid adieu to the Addamses.
Unhappily, of course…