I saw it floating around for a few weeks before I was tagged.  You know the type: I have accepted a challenge to post the cover of seven books I love; no explanation, no review, just the cover.
I followed the rules and made gut decisions each morning – it said books you love, not necessarily favorites – but not talking about books is just dumb. So here we go, complete with the pictures I made for my Instastories.
---
I was finally tagged in this challenge by my non-biological big sister, the woman from whom I was cloned, Jene (not Jennifer, not Jean, Jene).
The summer after I was in kindergarten, when we were 6 and 11, our families went to Walt Disney World – and she and I rode the whole way from PA and back in the back seat of my parents maxi-van with a box of borrowed Nancy Drews between us. I pretended #59, The Secret in the Old Lace, was my favorite, because it was Jene's.
Confession: really, my favorite was the next one, The Greek Symbol Mystery, because Greece and mythology, duh. In fact, the next year, when I was in a special reading class and my teacher asked if I wanted to learn another language, I said, "yes! Greek!" very enthusiastically.
We went with Spanish.
The teacher recounted this story 20 years later when I waited on her and some friends at my first dinner theatre.
A few weeks before my semester abroad in Cambridge began, some classmates and I traveled through Western Europe. We went to Bruges, where most of this book takes place, but the lace museum was closed that day. Another trip!
---
For the second day of this challenge, I chose a book I love even with the movie cover. And, yes, I own both.
Maeve Binchy is the queen of sweeping epics, and I was first introduced to her through the gloriously 1990s movie adaptation of Circle of Friends starring Chris O'Donnell and Minnie Driver – in her first major motion picture, for which she gained 30 pounds and often had to walk in a ditch because she was taller than her leading man.
I identify heavily with Benny, the "funny" and "smart" but never "pretty" one of her friends with her small town life and overprotective religious parents. As often happens, the book finishes with a perfect, bittersweet ending that the movie had to happy up… but it was the right ending. No one makes me happier to feel than Ms. Binchy. May she rest in peace.
---
Before you were a Carrie, Miranda, Samantha, or Charlotte, you were a Meg, Jo, Beth, or Amy. Obviously, I am a Jo and it was TOTALLY THE RIGHT THING that she didn't *spoiler alert* marry Laurie. @ me, I will fight you.
On the aforementioned trip to Disney circa 1985, Jene and I picked up an armload of books all with the same type of binding… my stash included Alice in Wonderland, Grimm's Fairy Tales, Huckleberry Finn, Heidi, Black Beauty – and Little Women. Despite my advanced reading level, it took me a few years to get into, but once I did, I was obsessed. Jo was the perfect heroine: literary and theatrical, active and intelligent, and I loved the March family dynamic.
Fast forward a few years to the upcoming 1990s film. A magazine article stated that Claire Danes lived tragically in My So-Called Life, and died tragically in Little Women. What were they talking about? Beth doesn't die!
…that's when I discovered the book that had been my very favorite for several years was only the first half of the story.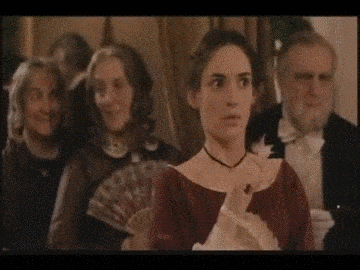 I soon caught up and, death and all, it remained one of my favorite books. I couldn't find an internet pic of the cover of my original copy (I now have half a shelf of various versions), but the one I used for the fb post cracked me up. Cheekiest March sisters ever -especially Amy! She always was a sassy one.
---
The first time I read Bridget Jones's Diary, I was not impressed. All she did was drink, smoke, and make terrible decisions. Then my friend Bryan suggested that if a diary is the truth of the diarist – well, aren't we all the most honest and ugly with ourselves?
After I finally saw the movie, I fell completely in love with this verbally incontinent spinster who smokes like a chimney, drinks like a fish, and dresses like her mother.
When I then reread the book, it was a completely different experience than my first. I began keeping a copy in my work desk drawer – and now I have one on my phone – so that I always have SOMEthing on hand to read.
Fun facts: I met my tall dark and broody the Christmas of my 32nd year of being single. And I often lament being a smug married, but my friend Suzanne says until I try setting her up, I'm not actually one.
---
Beauty is one of those books that someone found (that someone might have been me, but I would not swear to it. That was a long time ago.) and then passed through the rest of our friends group like wildfire. A retelling of the Beauty and the Beast tale, it's a quick, charming read.
Much like Jo March, Honour, somewhat ironically nicknamed "Beauty" as a child, is an ugly duckling who hates her, dare I say it, poor provincial town, but has wonderful sisters.
When her family's fortune falls apart, she relishes the chance to escape societal constraints, and when things change yet again, she adapts well to the beast's castle and its fantastical servants.
As a Beauty does.
---
I once didn't understand the hubbub over voter ID laws. You need an ID for everything else, what's the big deal?
My very wise friend Hannah suggested this book, and it very figuratively blew my mind. I had no idea the lengths that politicians went through to keep people from voting.
Ironically, I now live in a state filled with battles over gerrymandering and early voting. A state that says you must have an ID – and then closes DMVs in predominantly black areas.
It is appalling and disgusting the things that white men have wrought upon our country.
Don't even #notallwhitemen me, especially now as we're currently watching families torn apart by a policy enforced unreasonably by the current administration and a troll of an AG who dares to quote the Bible as justification.
Eff that noise.
Resist.
Learn from history, because we are already repeating it.
---
Trying to decide on seven books worthy of the challenge was much harder than anticipated. So… one of a set of completelyseven?
I was late to Harry Potter as the first book came out when I was in my college bubble. When the second movie was about to premiere, I was in a dinner theatre production of Annie, so, of course, all the orphans were super stoked – including the daughter of my childhood bff, with whom I completely reconnected during the show.
In anticipation of our group movie outing, I started the first book. And finished it overnight. A long time fan of Narnia and other fantasy adventures (see book #5), I was quickly hooked!
I'll spare you the rest of my Potter anecdotes – for now – but Goblet of Fire will always be my fave.
***
For what it's worth, none of the links are affiliate ones. I'm not that fancy. Yet (;
Thanks to Canva and A Design Kit for providing great ways to craft Instastories. (Also not sponsored, just a fan.)
Featured photo from TurtleDoves/Sam Florance on Etsy.