Open the gates…
Possibly my number one pet peeve, even over people who park like jerks, is when people are negative about things that other people care about. When they feel the need to give their unsolicited whining on said thing because it makes them feel superior.
So please know that this post is Not That. But it's also my blog and I will rant if I want to (;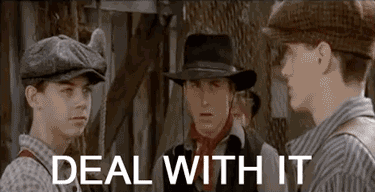 Don't be afraid and don't delay…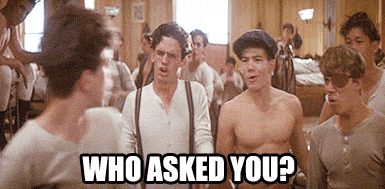 There is a definite part of me that is afraid that despite any disclaimers, this will still be seen as hating all over the people doing the work when I'm not doing any of the work, but, I assure you, this isn't the case. I truly care about the theater world and felt compelled to use my platform, no matter how small, to talk about it.
I asked a wise friend how I could best discuss a sensitive topic, and she gave very good advice:
So, enjoy.
And, also, the world totally needs more Newsies gifs.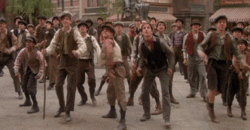 There are, in this next season – heck, in less than the time than it takes to grow a human being – FOUR different community theatres putting on the aforementioned Newsies, a stage show based on a 1992 Disney movie loosely based on a true story and full of singing and dancing teenage boys.
As you can probably deduce based on a general knowledge of my age and interests, I was a Major Fan. The summer of 1993, I watched my VHS tape twice a day. [Not an exaggeration. Ask my little brothers who had to watch it with me.]  A few years later, for my TV production class senior year of high school, I wrote a paper based on the real life strike vs. the movie version, along with a beautifully compiled video of beautiful dancing boys.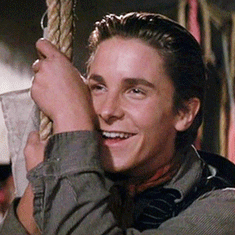 I am the first person to ok remakes and redos, the why of which is a whole other story, so this post is not complaining about Newsies existing as a stage show.
My problem is the lack of communication and over-competition in the community theatre world.
Everyone likes to pretend that the theatre is all about inclusion and acceptance… but that's only when everyone is getting their own, individual way.
I love some snark and shade, clearly, and every group should, also clearly, always strive to be their best. Fighting over rights and schedules – while pretending like we're not – is not the best we can do.
I kept my opinions on the subject largely to myself until a fifth theatre – the one that beat everyone else to a recent major jukebox musical this past year – mailed me a copy of their season brochure.
The tagline of which is a an obvious ode to The Show They're Not Doing But Everyone Else Is.
Enough.
Nothing can break us, no one can make us give our rights away…
I spent my entire college career planning to go into arts management. Heck, I interned with the executive director of a large community theatre. Not the artistic director,  but the money and business guy. I understand just how few donated dollars and bought tickets there are to go around.
[And here I would like to plug a good read from someone much smarter than I when it comes to arts marketing: Donation Ex Machina or How I Learned to Stop Worrying About An "Angel Donor" and Love Donors of All Sizes.]
I also understand wanting to do a hot new show as soon as the rights become available so, don't worry, part of my beef is also with MTI dangling the rights release date over everyone's head and then taking All The Money as long as there's no "real" overlap in showdates.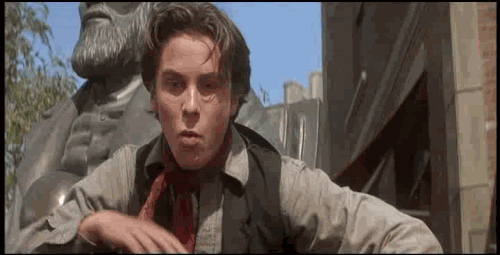 But also, y'all, do you know how hard it is to find men for shows? Do you know how many guys I know who don't audition because they just get called up when places are desperate?
And this is a show that is SO MALE HEAVY. I'm curious to see if any performers do all four productions, because there are just not that many dudes to go around. Not to mention that there are still other shows happening elsewhere, too.
Now, I am all about non-traditional casting, and there is no reason that there can't be female ensemble members. But this show is also SO DANCE HEAVY (part of the appeal of the movie), and, after men, dancers are the second-most sought after performers in community theatre.
Most of the time, the thing that most separates a community theatre production from a professional one is the dancing.
This is in no way meant to belittle the people who work their ass off at choreo rehearsals and who practice on their own time and who do their very best [which everyone should be doing, but that's for another rant, er, discussion], and, yes, a good choreographer knows how to adjust to what they've got, but I mean….
Now, outside of an actual kitchen, the one place one can often find too many cooks is in the theatre.
I can't imagine the headache it would have taken to coordinate one production of this show between multiple theatres:
renting out a larger house than any of these spaces have,
choosing one director,
choosing one band (ok, wait, no, the same people play all the pits anyway),
agreeing on casting
and agreeing how to divvy up the expenses and income…
…but also…. how NEAT would that have been??
The whole point of  Newsies is that these kids from all over the city…
…and, eventually, from various child labor industries come together to stick it to The Man.
What if all these groups had worked together (especially since four of the five I'm talking about are in a league together, theoretically for communication) to do one high quality production and prove that the theatre really is about what unites us.
Our common fears.
Our common battles.
Our common stories.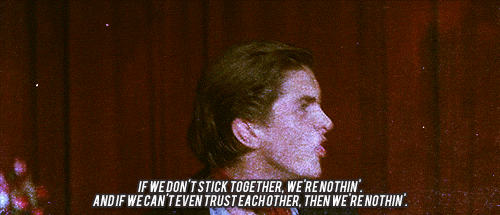 Arise and…
Arise, theatres.  All four of you doing the same show in the same season. And the one who apparently wishes they were. Do your shows, do your best, try to get butts in those seats. I wish you all the broken legs and paid bills.
But I also challenge you to talk to each other to help each other out. Loan some costumes or a helpful set trick. Maybe even discuss seasons and timing sometime (because then actors and crew members can actually see shows at other theatres instead of playing overlapping weekends).
The more we succeed individually, the more the arts community succeeds as a whole.
There should be more comraderie, less cutthroatedness. Strive for quality, but not at the expense of others.
Make this area a fun place to work, a place where people don't have to deal with snarky comments about "cheating with that other theatre" or how "everyone from a certain theatre is a dilettante" or, ironically, "how does that theatre think they can pull off a certain show?"
One last gif. Because #teamDavid forever. [I still think David Moscow and I need to play Max and Maggie in Lend Me a Tenor. David, have your people call my, uh, me. It's just me.]
…seize the day.
***
[Header image courtsey of Baleheadsblog.com]